Brunch Places In St Albert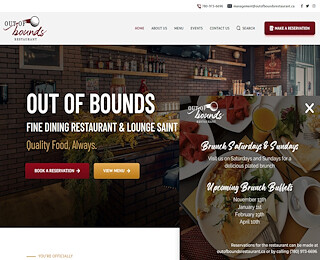 Out of Bonds is one of the premier brunch places in St Albert, with a delectable menu and high-quality food made with locally sourced ingredients. Our restaurant offers an ideal environment for families to gather for celebrations, food, fun, and more in an exuberant ambiance.
Top reasons to choose us for brunch
As one of the top-rated bars near St Albert, we serve the highest quality food at affordable prices. Ranking as one of the best St Albert bars, our restaurant offers a serene and relaxing ambiance for dinner dates, anniversary celebrations, and dining out with your family.
Whether you seek some Asian food a well-seasoned steak or middle-eastern hummus, we have you covered. Our diverse menu and delectable meals consisting of locally sourced ingredients make us the #1 restaurant and bar in St. Albert.
How do I pair my food and drinks at a restaurant?
We understand how stressful it can be to get the right drink to compliment your meal at any of the St. Albert bars. As one of the premier lounges and fine dining places, we offer recommendations and help our dinners choose the right cocktail to accentuate their dining experience.
If you order seafood or salads or something on the heavier side, always pair it with acidic drinks or citrus-driven cocktails. If you are in the mood for something spicy from the menu, go for beverages with high alcohol content. When ordering fatty foods like duck or steak, make sure to pair them with red wine or a good glass of margarita.
Low-calorie brunch meals options 
Here are a couple of low-calorie brunch meal options to look out for on your next brunch at one of the St Albert restaurants and bars:
Roasted Brussel sprouts – it is one of those healthy and delicious meal options coming with a crispy exterior and juicy interior. It has just 104 calories per serving with just 10g carbs and 4.5g of sugars. With a whopping 70mg of vitamin C, 41mg of calcium, and 23 mg of magnesium, it is one nutrient-rich meal that you cannot miss.
Romaine à la Caesar - It is a rich yet healthy brunch option encompassing 380 calories per serving. With carbs amounting to just 16.3 mg, this dish is rich in folate, calcium, magnesium, and potassium. Not to mention, the anchovy dressing and the crusty cubed Italian bread can take you on a wild ride to flavor town.
Gluten-Free Pasta with Kale Pesto - This quick and easy recipe is the most ordered item at the Out of Bounds restaurant. It is kid-friendly, gluten-free, vegetarian, oil-free, and is super nutritious with lots of protein and fibers.
Contact Out of Bounds at 780-973-6696 for menu-related inquiries and questions on hours of operation. You can view our menu here and make reservations here. As one of the highly sought-after brunch places in St Albert, we have a diverse menu with vegan, vegetarian, and gluten-free meal options. Reserve your table today to devour the best-tasting food in St Albert!
Brunch Places In St Albert
Out Of bounds
7806901233
24427 Township Rd 542
Sturgeon County
AB
T8T 1L4
View Larger Map