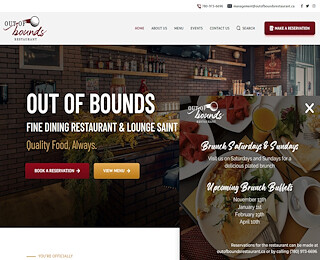 If there is something common among most St Albert pubs, it is a friendly environment that is ideal for relaxing. However, there is a place that goes beyond that and offers its customers an unparalleled atmosphere. We are talking about Out of Bounds Restaurant and Lounge, a new space designed to guarantee maximum comfort along with some of the best food available in Alberta.
When one talks about lounges and fine dining, maybe some particular restaurants with modern themes and menus come to mind. But Out of Bounds restaurant has transformed that same concept and successfully intertwines the best of the contemporary cuisine with the loved-by-all Canadian flavor.
We understand there are many questions about going out to St Albert bars now that a worldwide pandemic conditions all of our daily activities. For that reason, we've prepared some answers to your doubts so you can enjoy yourself knowing there is little to no risk.
That being said, we encourage you to always use a mask and practice social distancing to minimize the risk of infection as much as possible. Beating the virus is a collective responsibility, and when it comes to having amazing meals and cocktails, you can leave the great people of Out of Bounds in charge.
How safe is it to go to a restaurant nowadays?
That entirely depends on the staff's level of commitment, as there are several bars near St Albert that more than often don't comply with healthcare recommendations. In the case of Out of Bounds, the management has made clear to all the employees that only guaranteeing the customers' safety will allow the restaurant to continue open for the public.
That means that the use of masks, social distancing, and proper sanitization of the facilities have become regular practices in this St Albert bar. 
Besides social distancing and masks, what do you do to reduce the risk of infection?
As well as other St Albert restaurants and bars, Out of Bounds has followed every one of the recommendations provided by health authorities. 
This means that, for example, only disposable and digital menus are given to customers. This diminishes the risk of contagion between customers and staff.
Also, the distance between tables is larger than usual. There is a limited number of seats available for clients (which is why we encourage you to make a reservation ASAP and don't miss out on these amazing courses and cocktails!)
Are you open all the time?
Considering the current situation, Out of Bounds started working on a fixed schedule that goes from Tuesdays to Saturdays. On weekdays, the place is open from 3:00 PM to 10:00 PM and on Saturdays from 11:30 AM to 10:00 PM.
The special operation hours on Saturday are due to the restaurant's brunch options, ones that are becoming increasingly popular among brunch lovers all over Alberta.
Does your delivery works? If so, is it safe to use it?
Absolutely! There is delivery available for all Alberta residents, and they can choose anything from the menu, from main courses to desserts and our special cocktails.
In addition, Out of Bounds has implemented contactless delivery, a new method in which the customer and the driver of the order are safely distanced. This way of delivering take-out is the most effective when reducing infection and has been received greatly by many happy clients.
If you have any other questions, don't hesitate to reach out to us through our Instagram account or visit our website for more information. 
Contact Out of Bounds Restaurant And Lounge for the best quality foods, always.
Phone: 780-973-6696
View Menu: https://www.outofboundsrestaurant.ca/menu/
Reservation: https://www.outofboundsrestaurant.ca/
Out Of bounds
7806901233
24427 Township Rd 542
Sturgeon County
AB
T8T 1L4
CA